"Life beats down and crushes the soul, and art reminds you that you have one." Stella Adler
Along with my contracted work, I do work for purchase or commissioned work in a variety of mediums, many times simply from the detritus that I find in my immediate vicinity. It creates more of a responsive approach to art almost like a conversation with the materials.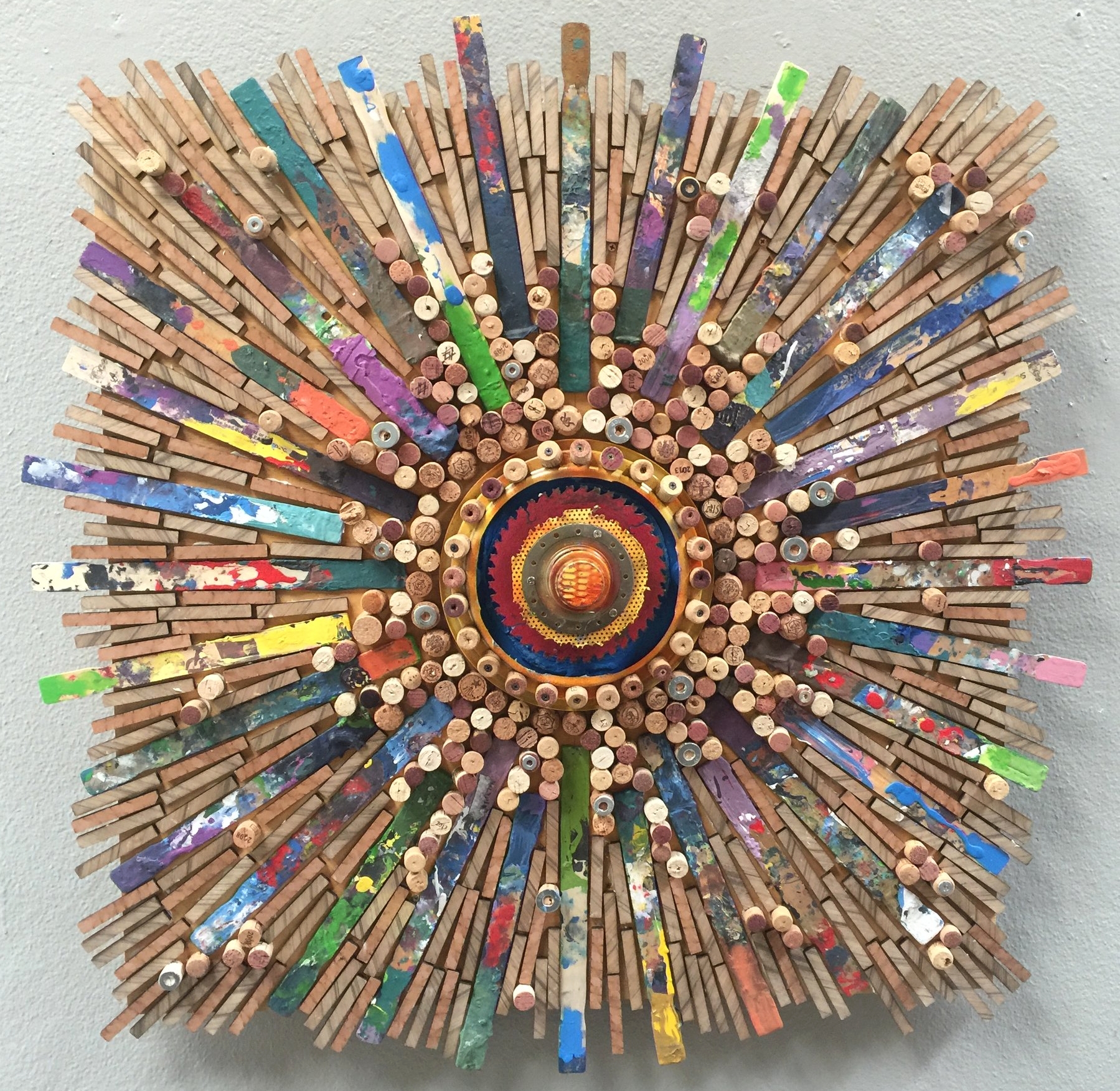 Ode to Joy
Available for purchase
Artists think everything is redeemable, so we tend to save stuff for "future art." I wouldn't be in the starting line-up for the TV show "Hoarders", by any means, but I'm definitely on the farm team– maybe double A ball.
I had a 3 ft. x 3 ft. piece of plywood in my woodpile, some used wine corks, old speaker parts, used paint sticks, a used saw blade (what would he save that for?) and some excess, lasered wood pieces from a fabrication shop a friend runs (He's an enabler). So, I actually slapped it all together and made a big sunburst assemblage piece...I just got the call and was sent down to the single A hoarding team! On the bright side, my studio is a little less cluttered and my "trash" can be your treasure.
This piece, like Beethoven's Symphony No. 9, is a celebration of joy like all the parts of the orchestra coming together in balanced harmony.
Ode to Joy (Close up-1)
Ode to Joy (Close up-3)
Gingko Tree
Assemblage of old paint brush handles and baling wire on an old fence – 48" x 60"
Available for purchase
Ginkgo biloba has been on my mind recently, which is ironic since not much sticks there–names, song lyrics, movie titles, etc. and this beautiful tree species is known to enhance cognitive function and memory in your brain matter...
...Where was I?...oh yeah, the Ginkgo leaf has a beautiful form and the species is one of the oldest trees in the world, some specimens dating back 3,000 years and fossils dating back to 270 million years. Not surprisingly, it's a symbol of strength and longevity which is perfect since I built this art piece with old performance art brush handles. It's a byproduct of being reared by Depression era parents who saved everything. I use old brushes because they keep accumulating in my studio and I love to recycle and I'm quite cheap. So, chew on that...or put it in your tea. Gingko that is. Did I say that already?
Gingko Tree (Close up-1)
Gingko Tree (Close up-2)
Time
Assemblage of lasered wood, metal washers – 36" x 36"
Available for purchase
Time is a curious thing. We revel in it–"The best time of my life", "Time flies when you're having fun", and we are controlled by it–"Time waits for no one" and "I don't have time for this!"
This piece was influenced by a chart of moon phases. I love the pattern of consistent objects with variations in design. As I began, I noticed that the moons became clocks and suns and so on to further the time theme. We live in an existence where we get media, food and all kinds of stimulation 24/7 and most of it is of little substance or sustenance. The theme that emerged was that each moment of our lives should and can be special and vibrant if we engage them without distraction and without living forward or backward, but squarely in the moment.
Don't let time be a weight, but find your own rhythm and make it a dance. Sometimes it's a slower box step and sometimes it's a sizzling samba, but at least your dancing!
Time (Close up-1)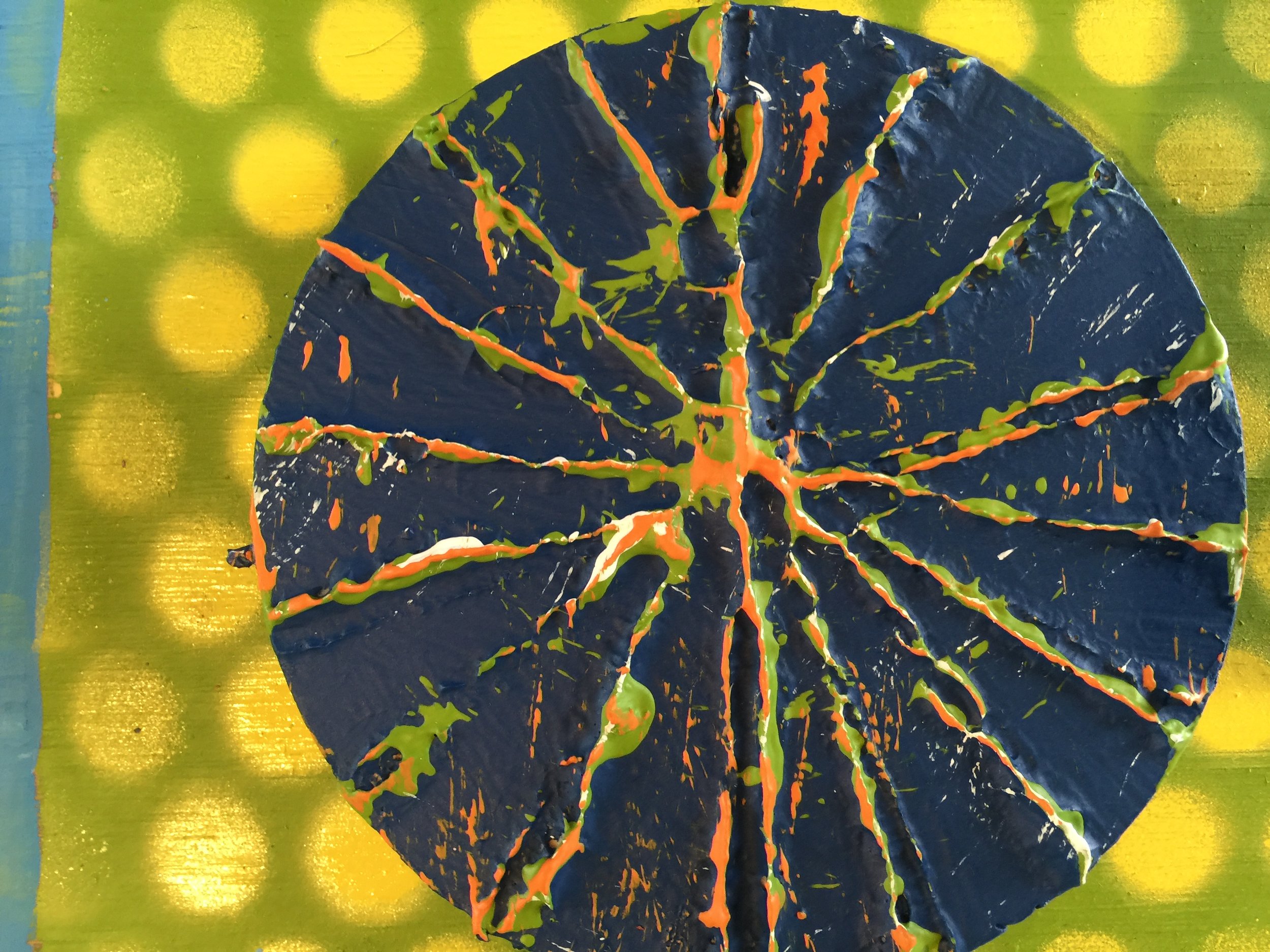 Time (Close up-2)
Community
Assemblage of used paint brushes, stir sticks, wine corks, lasered wood and speaker part. – 42" x 42"
Available for purchase
I tend to be drawn to asymmetry. Architecture that surprises with unexpected forms, a movie that ends and leaves you hanging and thinking of it all week or a jazz tune that takes you on a musical adventure.
However, there is a sense of balance in symmetry that is comforting and beautiful.
This piece combines objects that may not work together were it not for the circular, symmetrical pattern that they have been arranged in.
Community is much like this–a diverse group of people that come together to share common interests, faith or social causes. Alone, they are just an object, but together they form a wonderful kaleidoscope of humanity beautifying the world around them.
Community (Close up-1)
Community (Close up-2)
Messy Faith
Assemblage of used paint lids, paint brushes, stir sticks, furniture pieces. – 42" x 84"
Available for purchase
"Don't call the world dirty because you forgot to clean your glasses." Aaron Hill
Many times our faith in God is viewed with outward perceptions by our neighbors and ourselves when in reality we all struggle beneath the surface with the same day-to-day challenges of life and when we are honest in our struggles we actually present a clearer picture of God's grace as we walk through the hills and valleys together. As a result of our honest walk of faith we have more empathy to our fellow neighbors in their struggles and instead of living in a perfect world "apart" we can live in a loving, messy life "together."
This piece originated, as many others, out of using neglected materials lying around. I found some old performance art brushes and the bristles reminded me of the beautiful rice paddies that I encountered in Indonesia, so I thought that would make an interesting border to a painting. I also had some old panels from a Balinese gate that while incorporating into the piece reminded me of stained glass and formal accents in churches. The dichotomy of the "formal" materials and the "informal" used painting materials reminded me how the church can sometimes create a facade of beautiful tidiness when in fact it is a place filled with people in various stages of messiness and that those in the valleys of their lives can glean from those heading up the hill and vice versa in a harmonious and beautiful mosaic of humanity.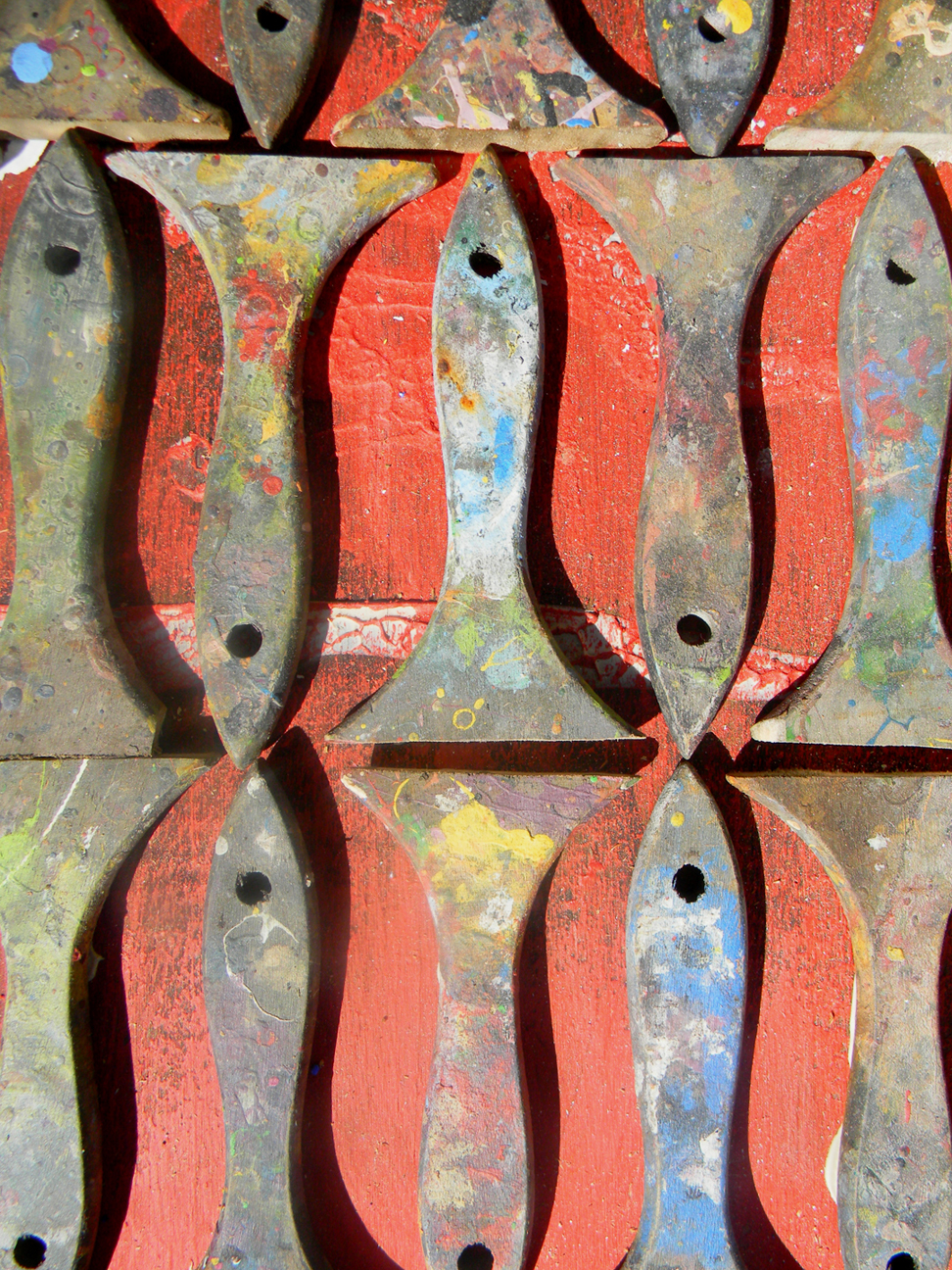 ​Messy Faith (Close-up-4)
Planted by the Water (Sold)
Assemblage of used paint brush handles, baling wire and an old fence
60" x 60"
Like the tree mentioned in Psalm 1, and as those who follow God, we should not grow without the constant nourishment of the water, without which we could become dry, inhibited and without the beautiful and joyous fruit inside us. As represented by the brush handles used in this work we are a blessing to God when we are sharing our gifts and passions with others painting a story of love, perseverance and hope to those we grow with. The fence in the background depicts the obstacles we constantly face in this journey.
​Planted by the Water (Close-up-1)
​Planted by the Water (Close-up-2)
Touch the Sky
Mixed Media/Assemblage of baling wire, wood panels and wood balustrade – 48" x 72"
Private Collection
I love hands. When you see an interview on TV they often zoom in on the subject's hands because hands reveal something about us; what we do for a living, our nervousness, our openess as we lift them in worship. I often talk with mine to better describe what I am expressing. Jesus healed and washed people's feet with them. We can bless and caress with them or we can strike or point them in judgment. How we use our hands are a good reflection of our character.
Touch the Sky (Close-up-3)
Baja Burro (SOLD)
Mixed Media - 36" x 60"
Acrylic, Stucco Compound and Spray Paint on Canvas - 36" x 60"
Having taken camping and surfing trips through Baja over the years, I aimed to capture the arid, desolate environment with the sunny contentment of its inhabitants, in this case the burro. The grooved texture denotes the washboard, auxiliary roads you traverse after a heavy rain where the only option is letting air out of your tires to soften the ride. The colors hint at the expressive people, food and culture found in this wonderful place.
One in a series of paintings commissioned by Sol Cocina in Playa Vista, CA.
Baja Burro (Close-up)-2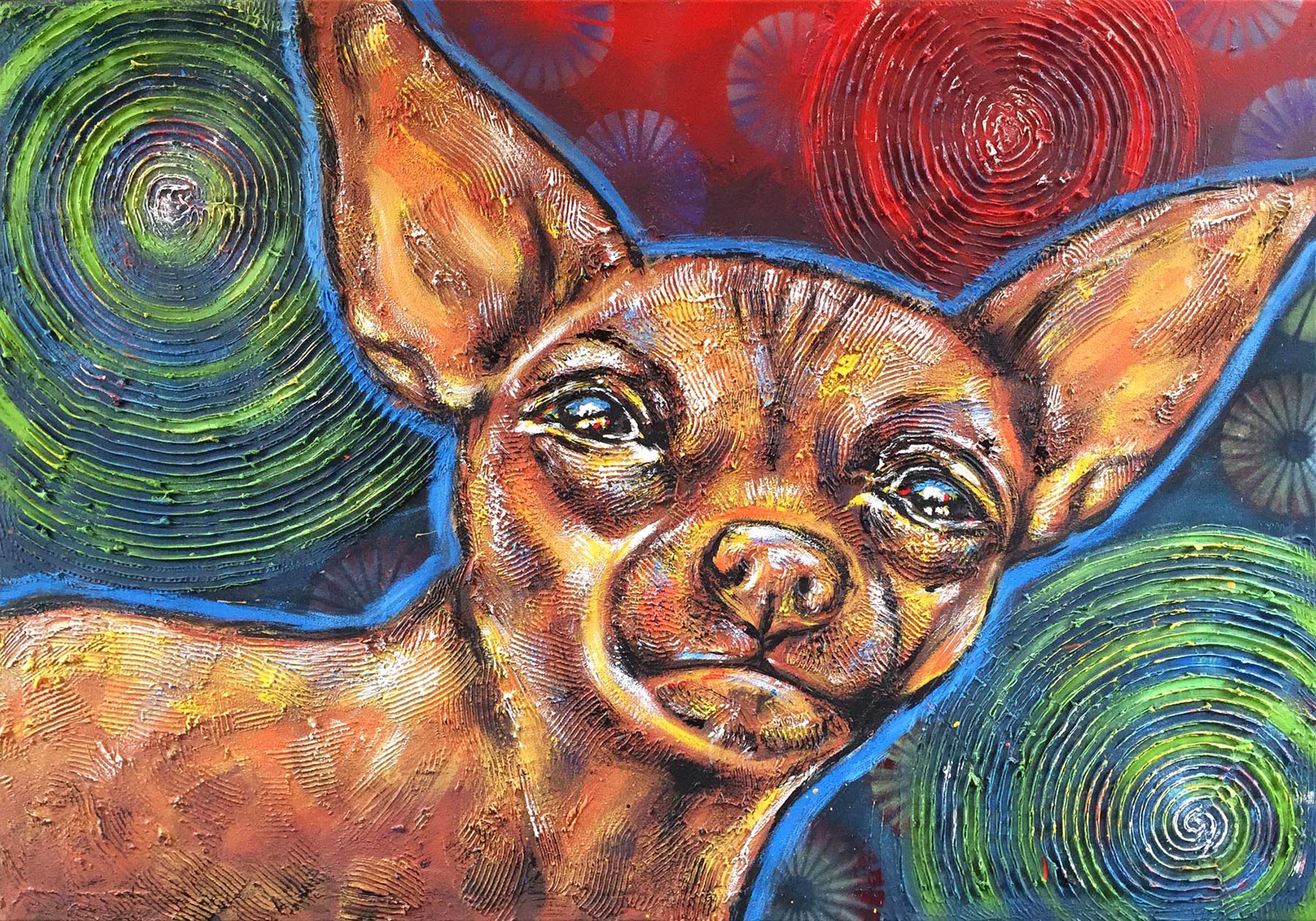 King Chihuahua (SOLD)
Mixed Media - 36" x 60"
Acrylic, Stucco Compound and Spray Paint on Canvas - 36" x 60"
The Chihuahua is a very feisty and curious breed. This painting, with texture and color, is attempting to capture that persona, or "dog-sona". The texture and color serve as an expression of this little dynamo's energy. Its eyes suggest "love me", but its actions (unless you are the owner) generally contradict that interpretation.
One in a series of paintings commissioned by Sol Cocina in Playa Vista, CA.
Baja Burro (Close-up)-1
Agave Azul (SOLD)
Acrylic, Stucco Compound and Spray Paint on Canvas - 48" x 48"
I find it interesting when I meet someone with a rough exterior who has a soft side. That is the case with the Blue Agave, its cool, spiky exterior belie its warm, smooth, amber colored altar ego–Tequila (When it's the good stuff). The artwork strives to represent that contrast.
One in a series of paintings commissioned by Sol Cocina in Playa Vista, CA.
Agave Azul (Close-up)-2
Circle That
Mixed Media/Assemblage – 20" x 27"
This piece created inside a wooden shipping box depicts those of living in a more confined environment, be it urban living, maybe the limitations of health or possibly agoraphobia (fear of venturing too far from home). We can create beauty and a sense of place wherever we find ourselves.
Smell the Flowers (SOLD)
Mixed Media/Assemblage – 20"x43"
"You're only here for a short visit. Don't hurry, don't worry. And be sure to smell the flowers along the way." Walter Hagen (Pro Golfer)
If you come upon a a beautiful rose–smell it. If you see an amazing sunset–stop and enjoy it. If you see a friend–hug him or her. There are things in life that are not just practical in their existence, but are there simply for your enjoyment and enrichment. Take the time to drink in these moments and refresh your soul.
This piece was created on a small wood pallet utilizing metal wire, spray paint and a speaker magnet.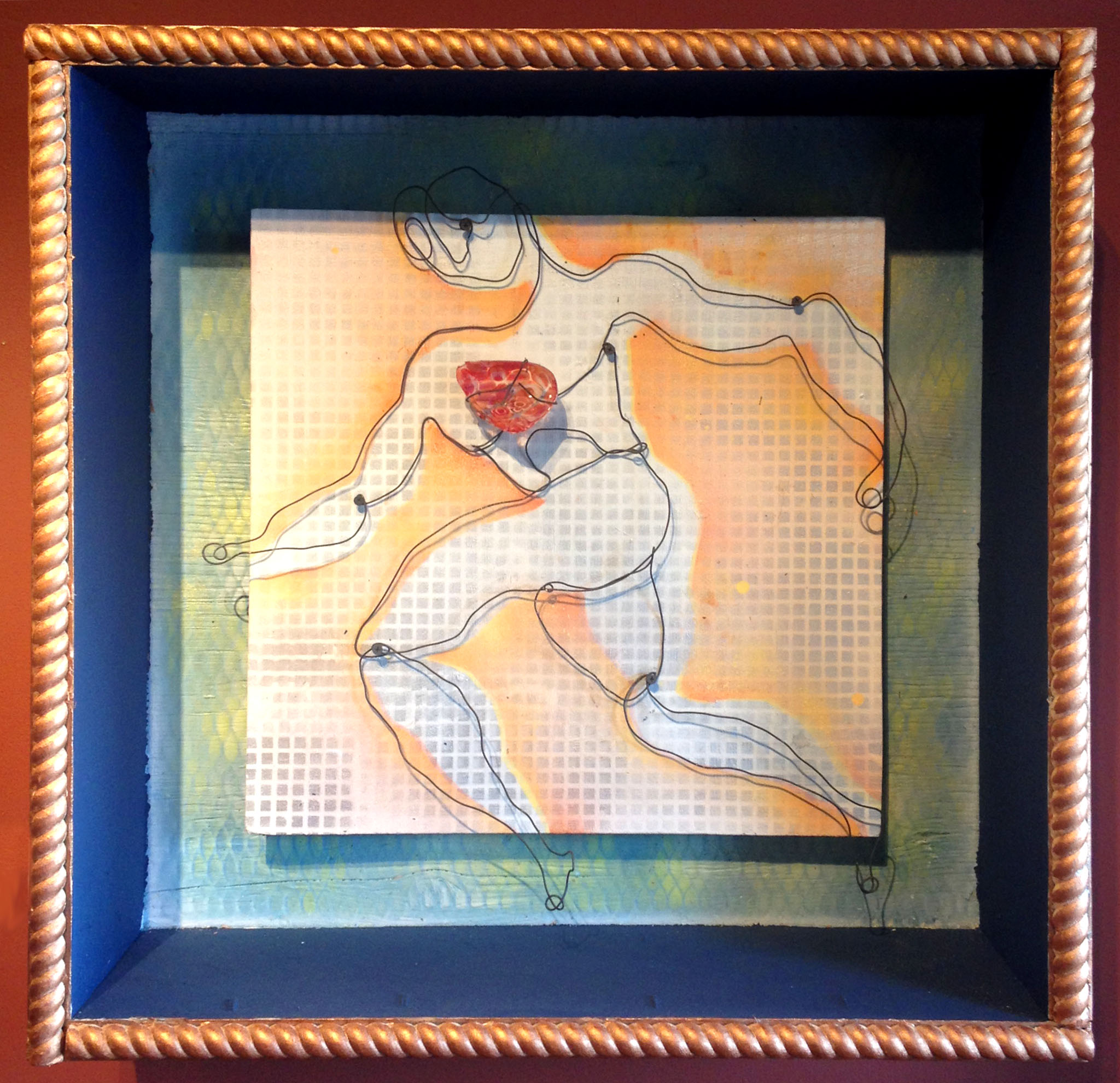 Running Man #2
Mixed Media/Assemblage – 30" x 30"
"A child who does not play is not a child, but the man who does not play has lost forever the child who lived in him." Pablo Neruda
What is it about seeing a child run that is so liberating? Maybe it's because they run for the simple reason they haven't been told they shouldn't and perhaps we relish their unrestrained enthusiasm. Many of us are usually running (rushing) to something or from something (fear) or not running at all because we are exhausted or have given in to our situation or given up all hope. Some of us don't run like we used to (Can I get an amen?!), but it's not always about what we can do physically, but where we are mentally and spiritually. Stop thinking with your head so much and start following your heart. The head sees things in a practical manner and the heart says, "What's around the corner? Let's go!"
This piece is built inside a wooden packing crate and utilizes wire, spray paint and glass. The organic movement of the wire figure contrasts with the square motif and suggests breaking out of the box we and others have created for ourselves.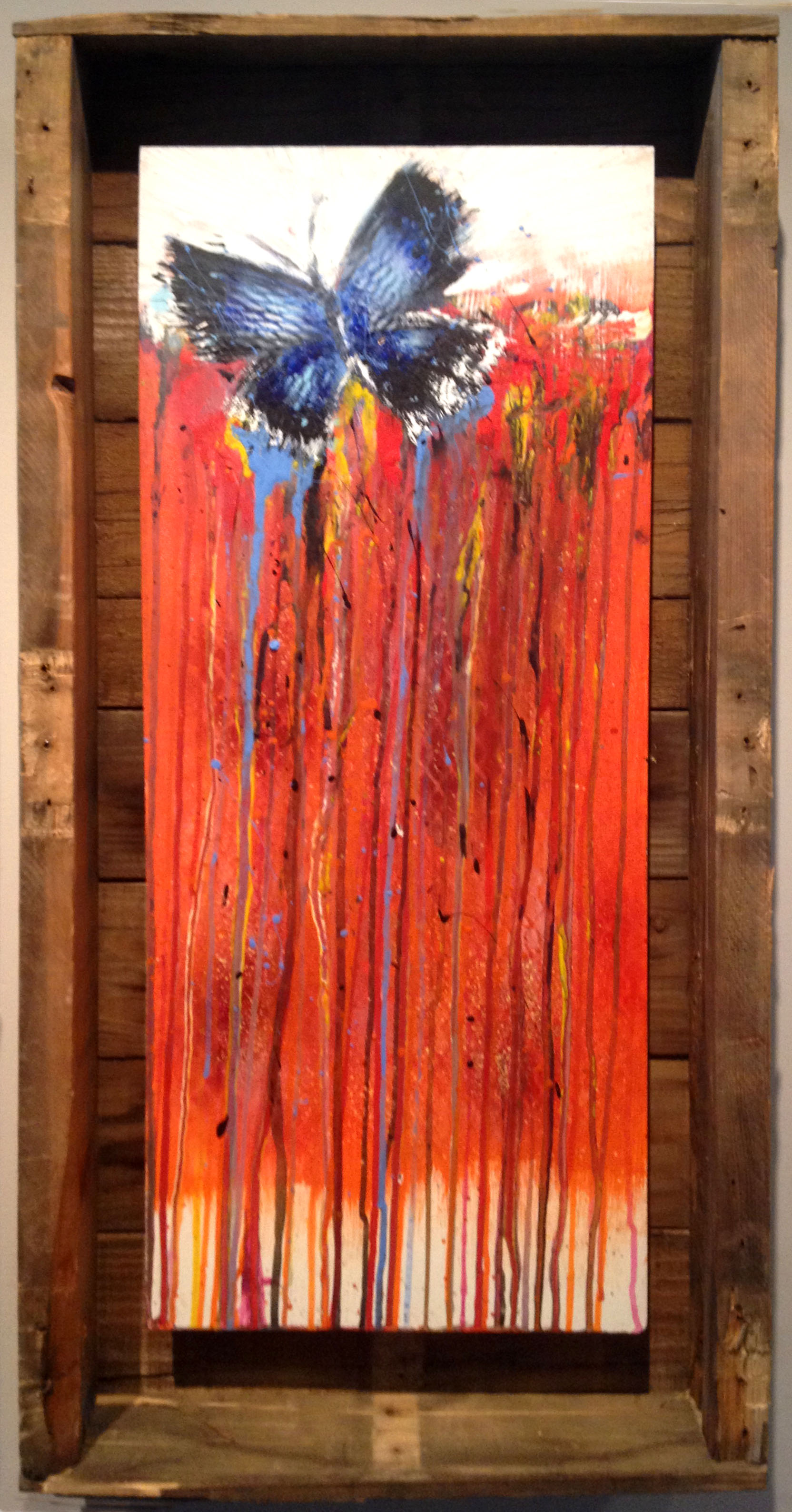 Pieces of Sky Series – #1 – Blue Butterfly
Acrylic on Masonite in Shipping Crate – 20" x 41.5"
I have found that many people that suffer trauma or loss in their lives connect symbolically to God for hope or comfort through His creation. For some it may be a part of nature such as a rainbow or a starry sky, for others it may be a creature of God's design.
In the case of these paintings, an author/musician is visited by a butterfly at just the right times in her life like a wink from God. She wrote a book/memoir named Pieces of Sky that refers to a prisoner's term for the small windows or openings they find in their small enclosed existence that reveal the outside world.
The center painting was used on the cover of the book. Each butterfly is encased in shipping crates (ironically from the San Onofre Nuclear Generator facility), that symbolically mimic a prison cell. In many cultures a butterfly is a symbol of resurrection or rebirth.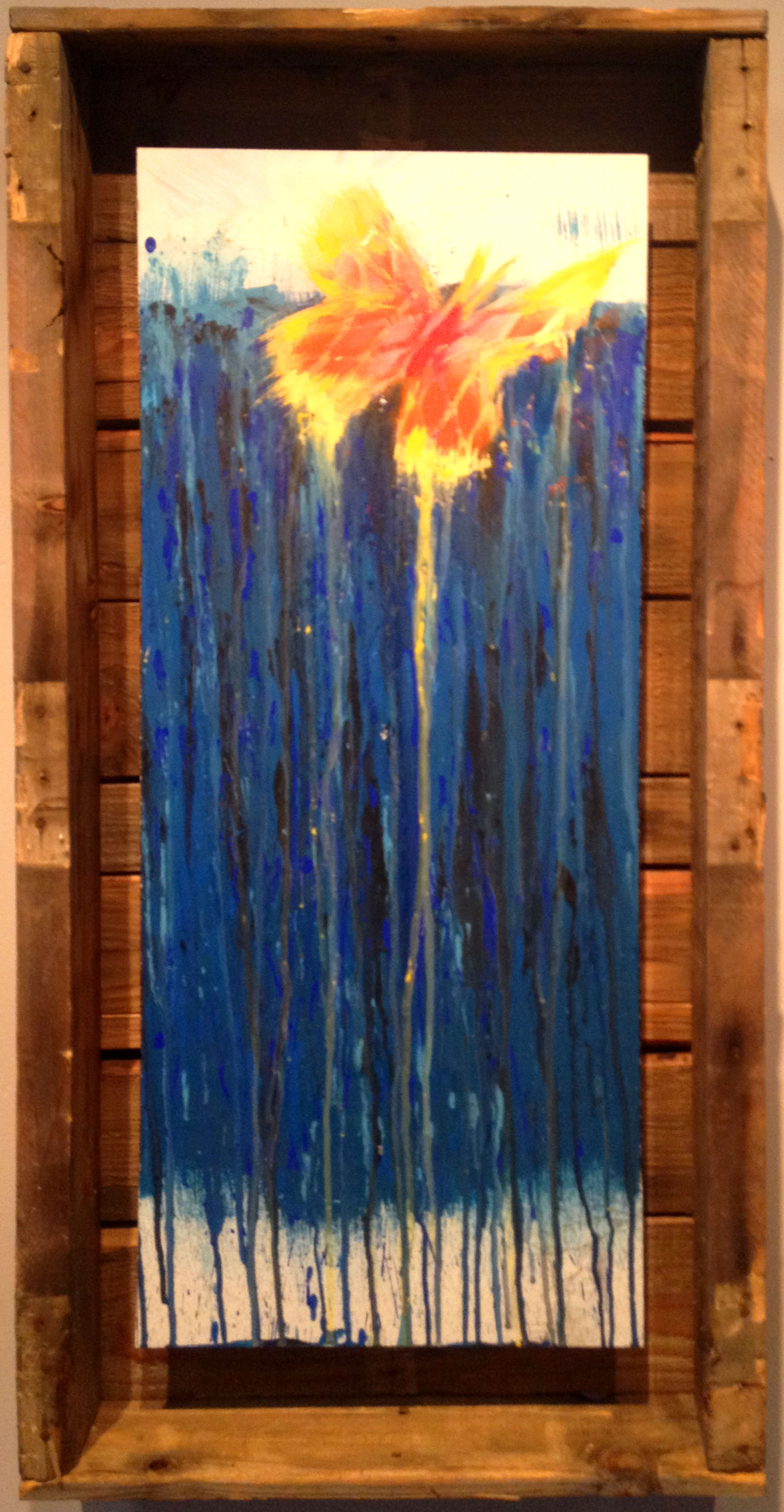 Pieces of Sky Series#2 – Orange Butterfly
Acrylic on Masonite in Shipping Crate – 20" x 41.5"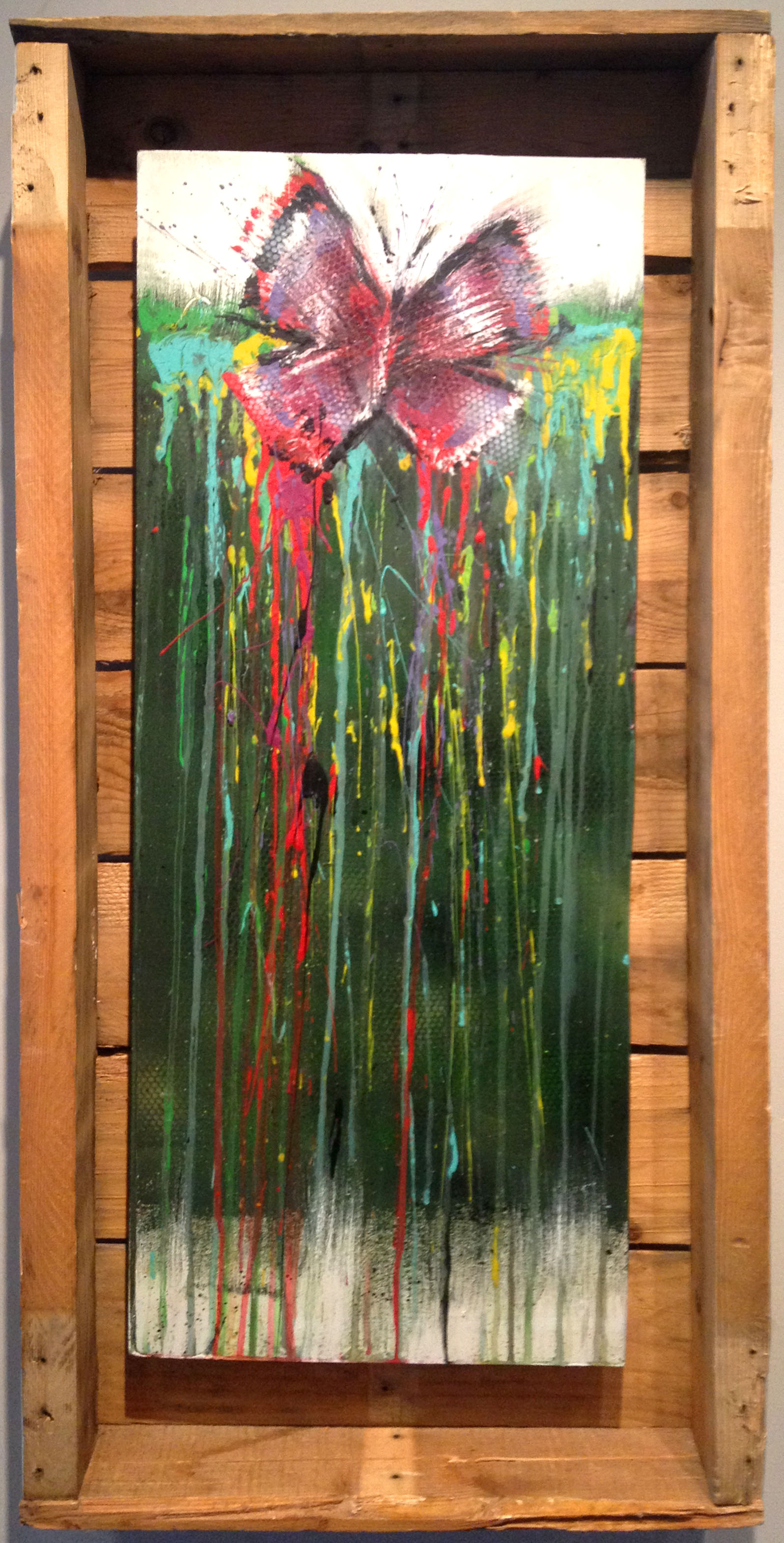 Pieces of Sky Series #3 – Red Butterfly
Acrylic on Masonite in Shipping Crate – 20" x 41.5"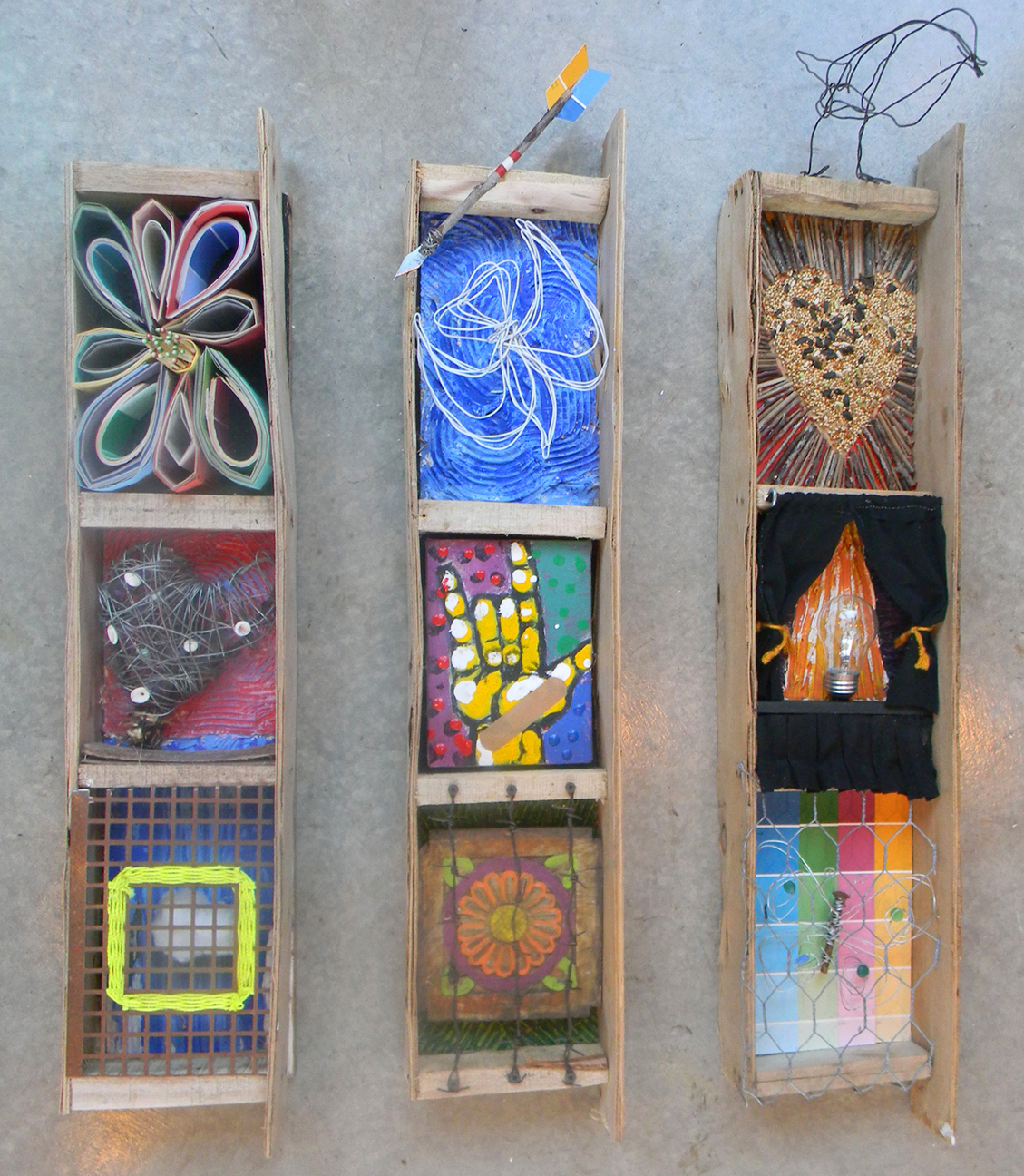 Light vs. Dark
Mixed Media/Assemblage – 30" x 34"
This piece was created after the loss of my good friend's 19 year old daughter. I was present at the hospital when Carley was born and when she left this life to be with her Father in heaven. It was a very tough season for me as I witnessed a family and a community of friends confronted with a loss that was hard to understand and even harder to not have Carley's effervescent and positive presence around anymore. Carley was a writer and poet that used her prose to help her deal with the difficulty of living with epilepsy and the desire to be seen as normal. Ironically, Carley saw epilepsy as a gift from God because it made her face her fears, find her purpose in life and become a better and stronger person. The dioramas show the fine line between darkness and light and how one day can be as light as the sun and the next as dark as the deepest cave.
I had some wooden packing pieces that were delivered with a chair I ordered and thought the squares looked like little picture boxes. Each box contrasts hope and despair: a flower made of paper color samples with matchstick stamens, a heart made of metal wire with pooka shells (collected by Carley) caught in its web, a cotton cloud behind a metal grid, a metal wire bird in flight with an arrow made from a stick, X-acto blade and color swatches flying by, a hand signing "love" with a band-aid on it, a carved wood flower behind barbed wire, a heart made of bird seed and nesting twigs with a bird looming above, a stage with a lightbulb and curtains and a butterfly with a rainbow of color swatches in the background made of a rusty screw and metal wire adorned with sea glass (found by Carley) caught behind chicken wire.
Through the heartfelt mercies of our God, God's Sunrise will break in upon us, Shining on those in the darkness, those sitting in the shadow of death, Then showing us the way, one foot at a time, down the path of peace. Luke 1:79 (MSG)
Light vs. Dark (Fire Flower)
Light vs. Dark (Tangled Heart)
Light vs. Dark (Captured Cloud)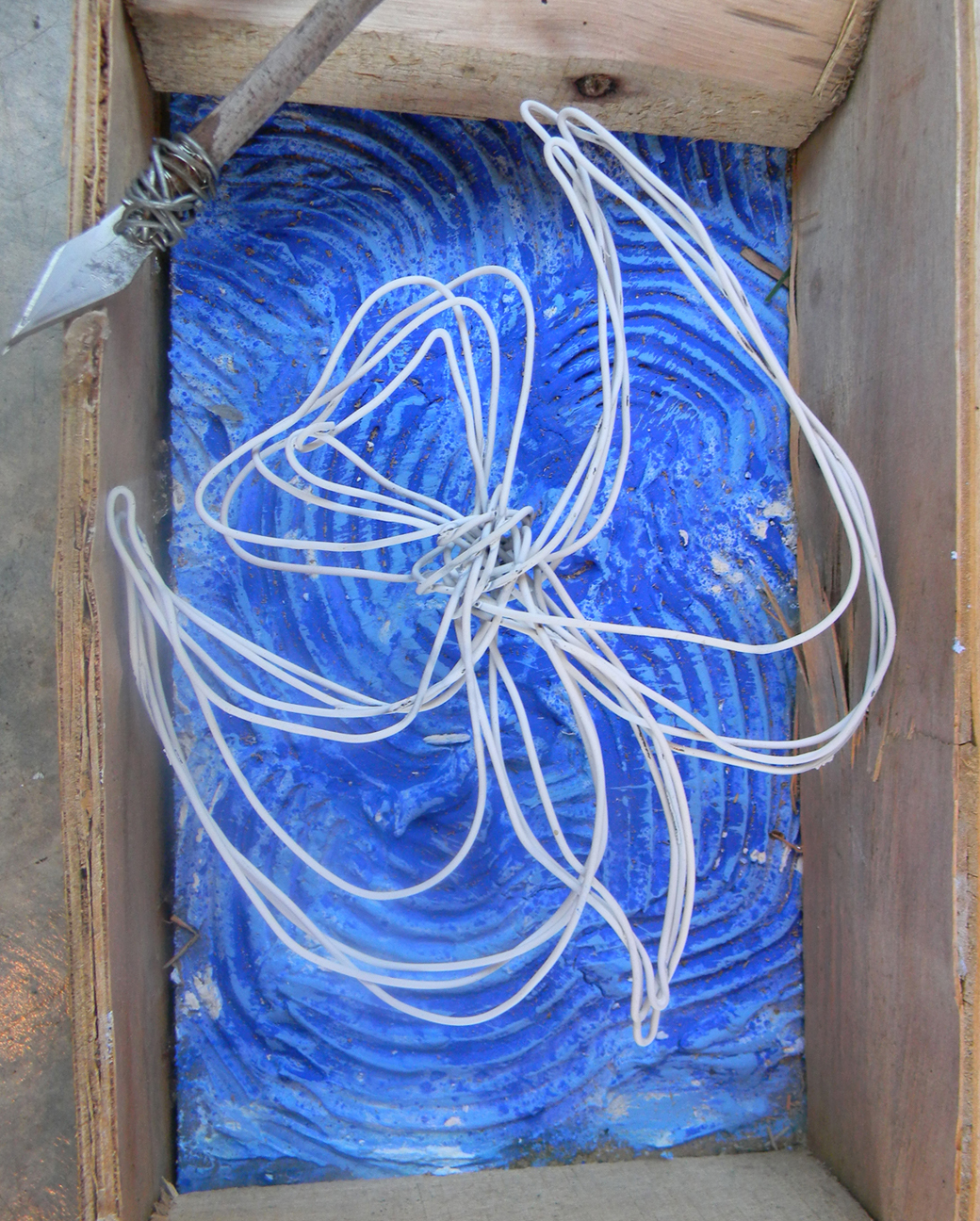 Light vs. Dark (PeaceNick)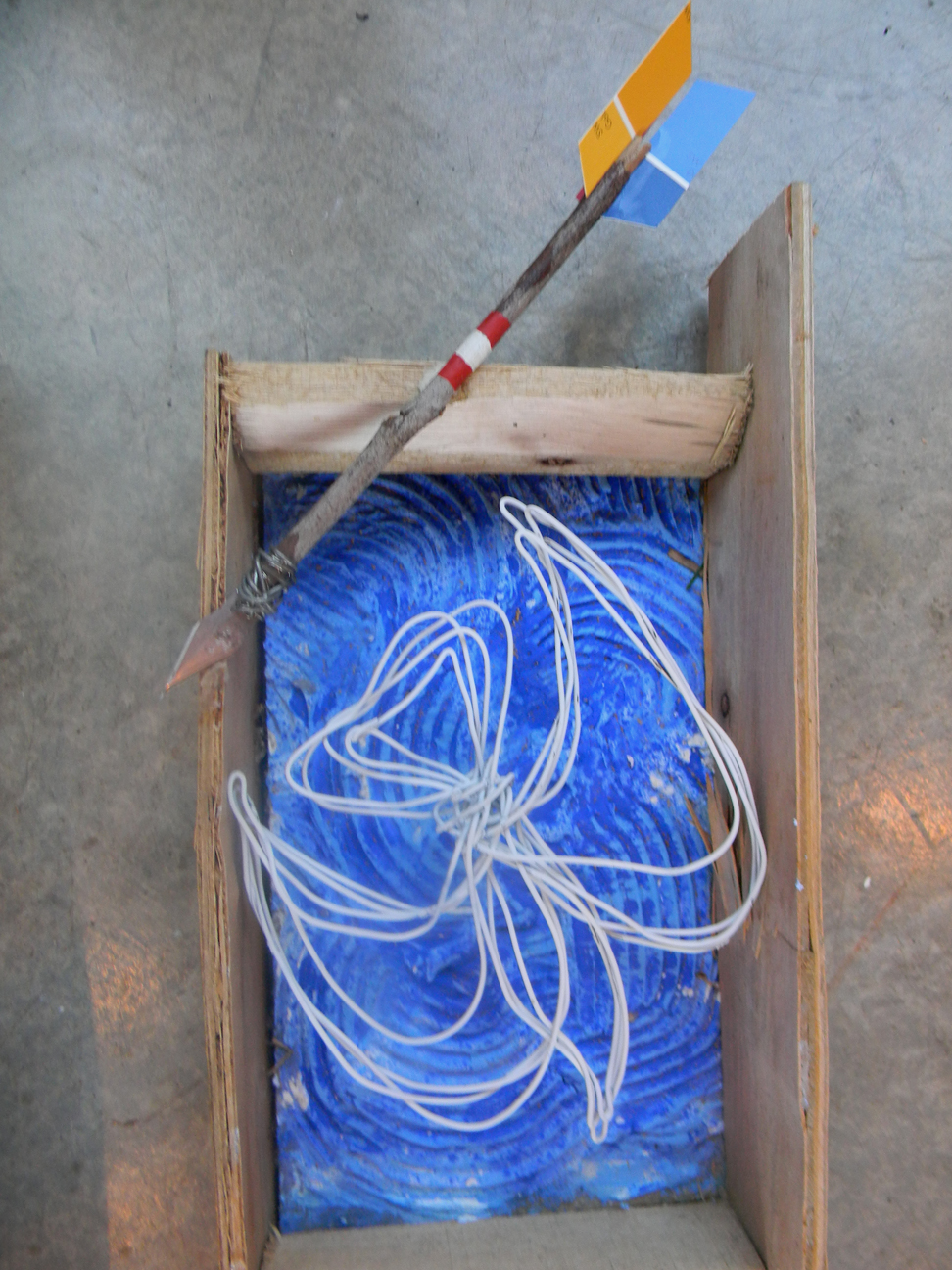 Light vs. Dark (PeaceNick-2)
Light vs. Dark (Tough Love)
Light vs. Dark (Bloom & Gloom)
Light vs. Dark (Seeds of Doubt-1)
Light vs. Dark (Seeds of Doubt-2)
Light vs. Dark (Seeds of Doubt-3)
Light vs. Dark (Stage Fright)
Light vs. Dark (Color Loss-1)
Light vs. Dark (Color Loss-2)
​
Running Man (Private Collection)
Wire/Glass
​Heart of Glass (Wire/Glass-close)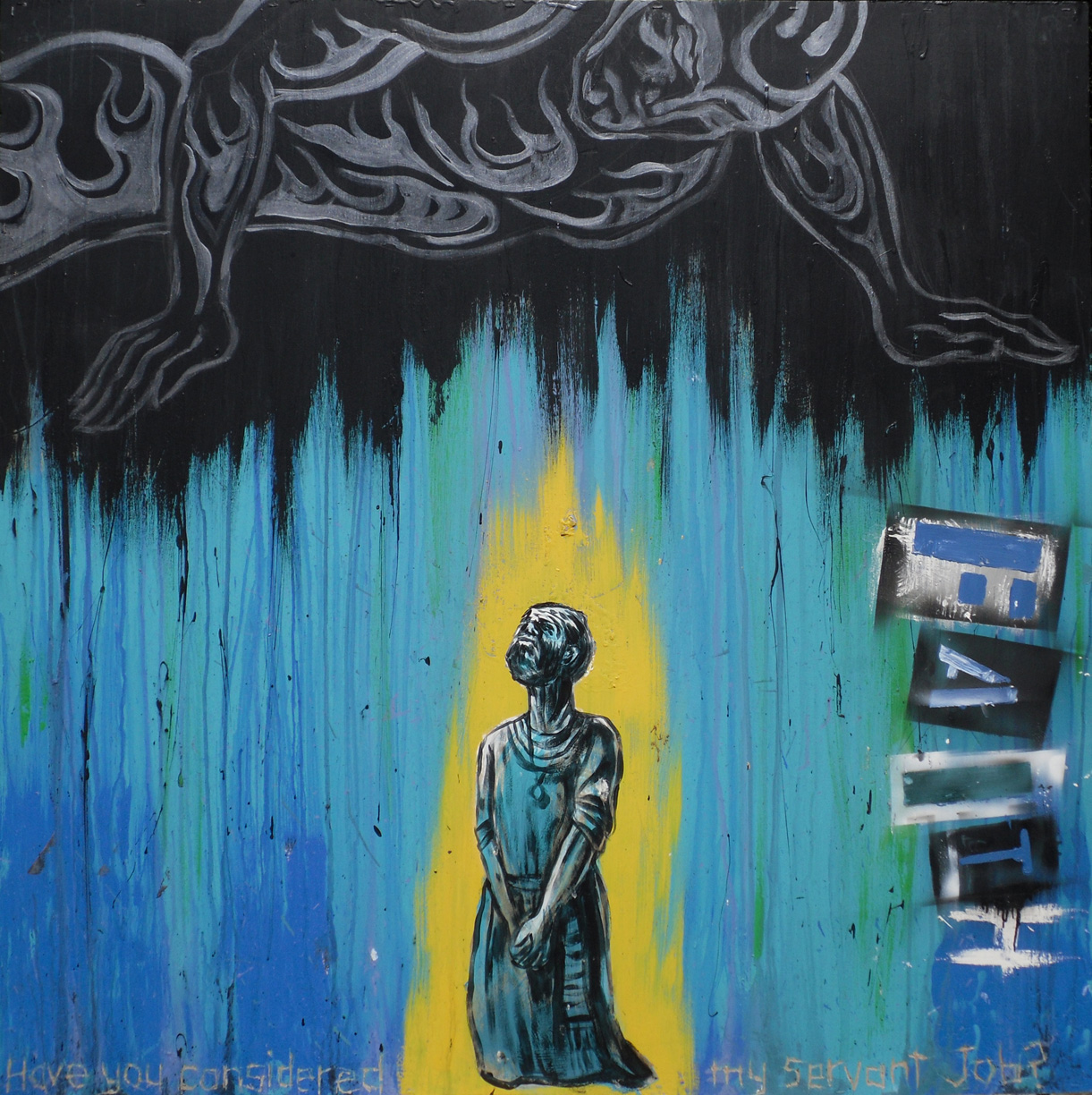 FAITH - The Enlightenment of Job Series
Acrylic on Wood - 4' x 4'
Available for purchase
"The ultimate measure of a man is not where he stands in moments of comfort and convenience, but where he stands at times of challenge and controversy." Martin Luther King, Jr.
The challenges to our faith can be daunting and relentless, but we have the protection of our Maker through our faith that shields us and makes us a light in dark places despite the temptations and trials life throws at us.
The enemy, Satan in this story, the circumstances of this world or the machinations of those around us can cause us to stumble, but we can be secure in the knowledge that God will never leave us or forsake us and that we must remain strong and courageous through the trials. (Deut. 31:6)
"Have you considered my servant Job." Job 1:8
TRAP - The Enlightenment of Job Series
Acrylic on Wood - 4' x 4'
Available for purchase
"My fate cannot be mastered; it can only be collaborated with and thereby, to some extent, directed. Nor am I the captain of my soul; I am only its noisiest passenger." Aldous Huxley
Sin and deception can come in many guises–some beautiful and appealing, but make no mistake; they can slither their way into your life at any point and apply a chokehold. You may not have a sayso in what each day brings, but you have the opportunity to respond. When the next round starts will you leave your corner in a defensive posture, hands raised with the attitude of just making it to the next round, or will you be floating like a butterfly like Muhammad Ali? Be confident that you have the best cornerman in the ring that can patch you up, stop the bleeding, and by no means will He ever throw in the towel.
This painting "Trap" depicts God allowing Satan control over Job's life with the proviso below.
"he is in your hands; but you must spare his life." Job 2:6
GRIT - The Enlightenment of Job Series
Mixed Media on Wood - 4' x 4'
Available for purchase
"Perseverance, secret of all triumphs." Victor Hugo
The pressures and circumstances of this world sometimes stretch us beyond our faith threshold and we are faced with two choices; give into it or grit it out and believe there is light in the seemingly endless abyss. Job lost everything, but clung to hope because he had a strong and vigorous confidence and built on years of communion with God.
Vincent Van Gogh sold ONE painting in his lifetime and that was to a friend. He kept painting and completed over 800 paintings in his lifetime. One of them is now valued at $142.7 million. Why did he keep painting? Because it was his passion and fed his soul. He did so without monetary gain. What feeds your soul? Invest more time in the gift you have been given. It may come with speed bumps, but you can't hit a speed bump without getting in the car and driving.
"Shall we accept good from God, and not trouble?" Job 2:10
NOISE - The Enlightenment of Job Series
Mixed Media on Wood - 4' x 4'
Available for purchase
"There's nothing wrong with enjoying looking at the surface of the ocean itself, except that when you finally see what goes on underwater, you realize that you've been missing the whole point of the ocean. Staying on the surface all the time is like going to the circus and staring at the outside of the tent." Dave Barry
How well do you really know someone when you judge their situation? There is stuff going on in their hearts and minds that only God knows. Sometimes those who bring "comfort" or "help" bring it with provisions and condemnation and confuse their judgments with empirical truth. Are we really helping them or feeling better about ourselves as we bask in our "good-ness"? That is not the case with God–He speaks with us through the unfiltered lens of truth as He allows the light to shine through the clouds and distractions.
"I have no peace, no quietness; I have no rest, but only turmoil." Job 3:26
NAKED - The Enlightenment of Job Series
Mixed Media on Wood - 4' x 4'
Available for purchase
"Be yourself; everyone else is already taken." Oscar Wilde
It can be quite exhausting trying to be someone other than yourself and unlike Meryl Streep, you will not win an Oscar for playing the part of someone else in real life, but there are rewards to just being yourself and it's less work.
Being figuratively naked before God with no place to hide may make us feel vulnerable, ashamed and exposed, but when God sees us in the mirror He doesn't see the same person we do and when we seek Him He clothes us with garments of salvation and covers us with robes of righteousness. (Isaiah 61:10)
"There is no dark place, no dark shadow." Job 34:22
PROTECT - The Enlightenment of Job Series
Mixed Media on Wood - 4' x 4'
Available for purchase
"It's the friends you can call up at 4 am that matter." Marlene Dietrich
There is something very seductive about cultural trends that tell you what is best for you; the coolest styles, the hippest phones and how you deserve all of them. We often acquiesce to institutions, growing trends and friends "in the know" and with their own agenda and forget who we are and lose track of our own GPS. A good friend is someone we have invested into our life and are okay with who we are, but also tell it to us straight when we lose our grounding.
Man the gates of your soul, because those people or institutions that appear to be there to build you up can, in affect, tear you down. Surround yourself with those who have wisdom and sincerity and who you can call at 4 am.
"They advance as through a gaping breach; amid the ruins they come rolling in." Job 30:14
PUZZLE - The Enlightenment of Job Series
Mixed Media on Wood - 4' x 4'
Available for purchase
"The best laid plans of mice and and men often go astray" Robert Burns – "To A Mouse" (adapted)
The seeds of success that we have nurtured sometimes are uprooted in the storms we encounter and force us to consider if a tree can simply water and tend to itself or needs to yield to the Gardener.
If you are going through a rough period, remember that a wine grape is given less water by the vintner for a period so the grape, through "suffering", yields a denser, smaller grape and, as a result, a more nuanced, quality wine.
"Do I have any power to help myself, now that success has been driven from me?" Job 6:13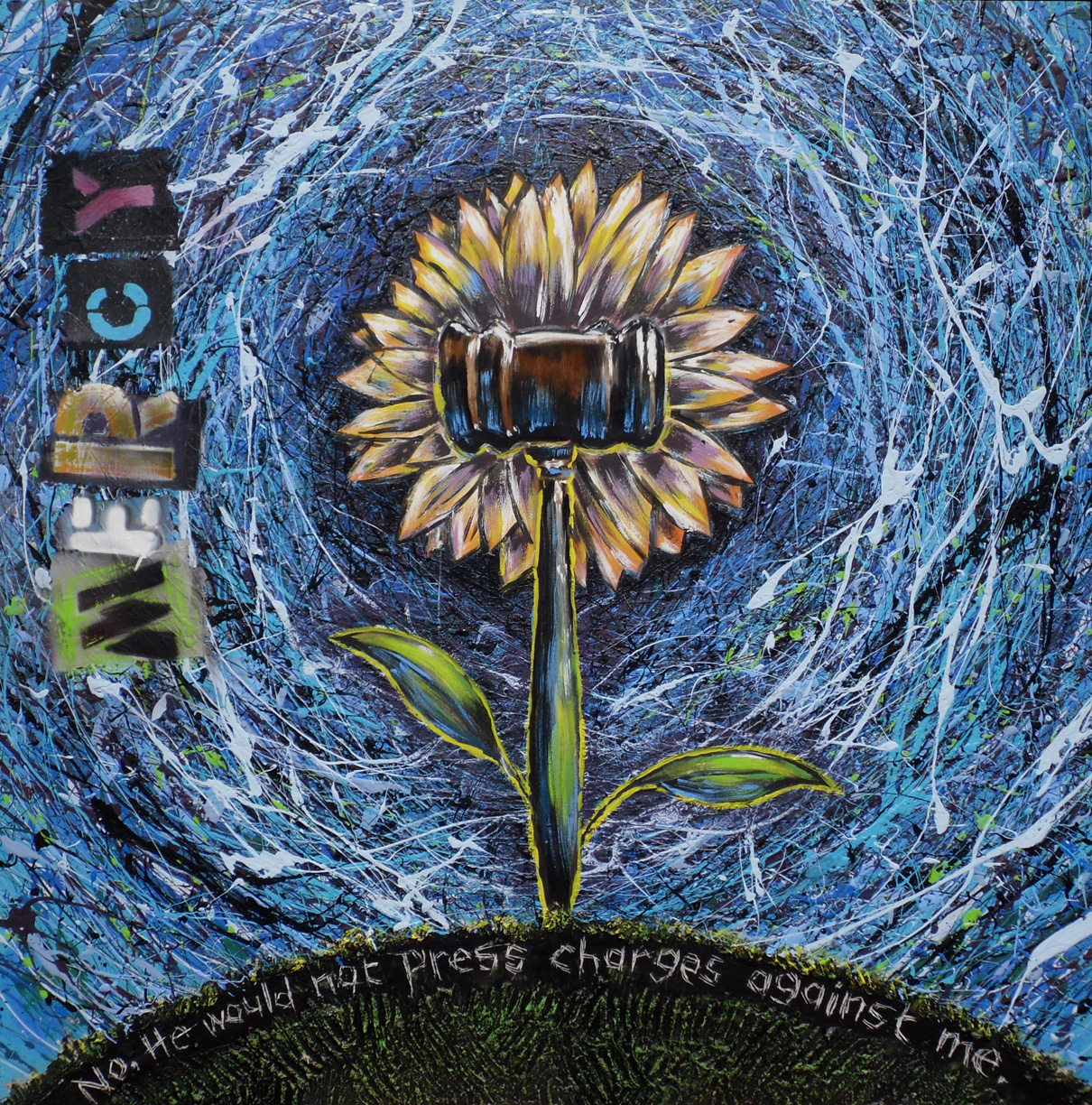 MERCY - The Enlightenment of Job Series
Mixed Media on Wood - 4' x 4'
Available for purchase
"The very contradictions in my life are in some ways signs of God's mercy to me." Thomas Merton
One of hardest concepts to accept is the overwhelming power that God wields and the amazing restraint and mercy He metes out despite our offenses. Thank God for that dichotomy.
Jesus is our defense attorney and He already went through the trial for us and paid the price on the cross. You are loved despite yourself. Hallelujah!
"Would He oppose me with great power? No, He would not press charges against me." Job 23:6
Young Anniversary Painting (Sold)
Acrylic on Canvas
Triptych- 48" x 84"
Commissioned piece for couple's 20th wedding anniversary
The Greatest (acrylic)​
Available for purchase
Soul•Light•Air
Acrylic on Masonite – 7' x 10.5' (Triptych)
Available for purchase
When Valentine's Day approaches the idiom, "Two is company, three's a crowd" is apropos, but for many of us three is the perfect balance. With the three primary colors we can create any color, the Two Stooges wouldn't be nearly as funny as the Three Stooges and a two ring circus would never quite measure up to three. As believers, we have the perfect trinity; our creator, our savior and our comforter and they speak to the whole nature of our existence. This triptych is my artistic look at that wonderful balance.
Panel 1 / Soul – God, the source and soul of creation who set everything in motion. The circle icon is the alchemic symbol for the sun, which is the source of light, warmth and what the galaxy revolves around. A circle is also eternal and has no beginning or end.
And God said, "Let there be light," and there was light. God saw that the light was good, and He separated the light from the darkness. God called the light "day," and the darkness he called "night." And there was evening, and there was morning–the first day. Genesis 1:3-5
Panel 2 / Light – Jesus was both temporal and eternal when He walked the earth and his Spirit continues to burn within those who believe and is a window to eternal truth and love. The red candle in the glass votive represents Jesus, with the glass votive and wax representing His earthly body that was temporary and the lit candle representing His light that resides in those who believe in Him. The square with cross icon represents light or a window. The descending nature of the paint represents His act of humility and mercy in coming to save us.
When Jesus spoke again to the people, he said, "I am the light of the world. Whoever follows me will never walk in darkness, but will have the light of life." John 8:12
Panel 3 / Air – The glass votive represents us as an empty vessel and the matches represents the Holy Spirit that Jesus left for us (John 14:25-27). It is ours to call upon, but we must strike the match through prayer and obedience. The triangle symbol is the alchemic symbol for air. Air or oxygen represents the Holy Spirit and is the ultimate fuel for fire that we are asked by Jesus to spread or fan by the sharing of His story (Matthew 28:18-20).
"I'm baptizing you here in the river, turning your old life in for a kingdom life. The real action comes next: The main character in this drama–compared to him I'm a mere stagehand–will ignite the kingdom life within you, a fire within you, the Holy Spirit within you, changing you from the inside out. He's going to clean house–make a clean sweep of your lives. He'll place everything true in its proper place before God; everything false he'll put out with the trash to be burned." Matthew 3:11 (MSG)
Soul•Light•Air (Soul) Close-1
Soul•Light•Air (Soul) Close-2
Soul•Light•Air (Soul) Close-3
Soul•Light•Air (Light) Close-1
Soul•Light•Air (Light) Close-2
Soul•Light•Air (Light) Close-2
Soul•Light•Air (Air) Close-1
Soul•Light•Air (Air) Close-2
Soul•Light•Air (Air) Close-4
​Father's Embrace (Acrylic)
​Artichoke (5' x 5') SOLD
Jayne @ 4 (Private Collection)​
Jayne @ 4 (Private Collection)​ Close-up-1
Jayne @ 4 (Private Collection)​ Close-up-2
​Eve @ 2 (Private Collection)
​Eve @ 2 (Private Collection) Close-up-1
​Eve @ 2 (Private Collection) Close-up-2
​CrossTune (SOLD)
Assemblage Sculpture - 24" x 58"
Conceived from a fantasy/thriller book.
​CrossTune (Close-up-1) SOLD
​CrossTune (Close-up-2) SOLD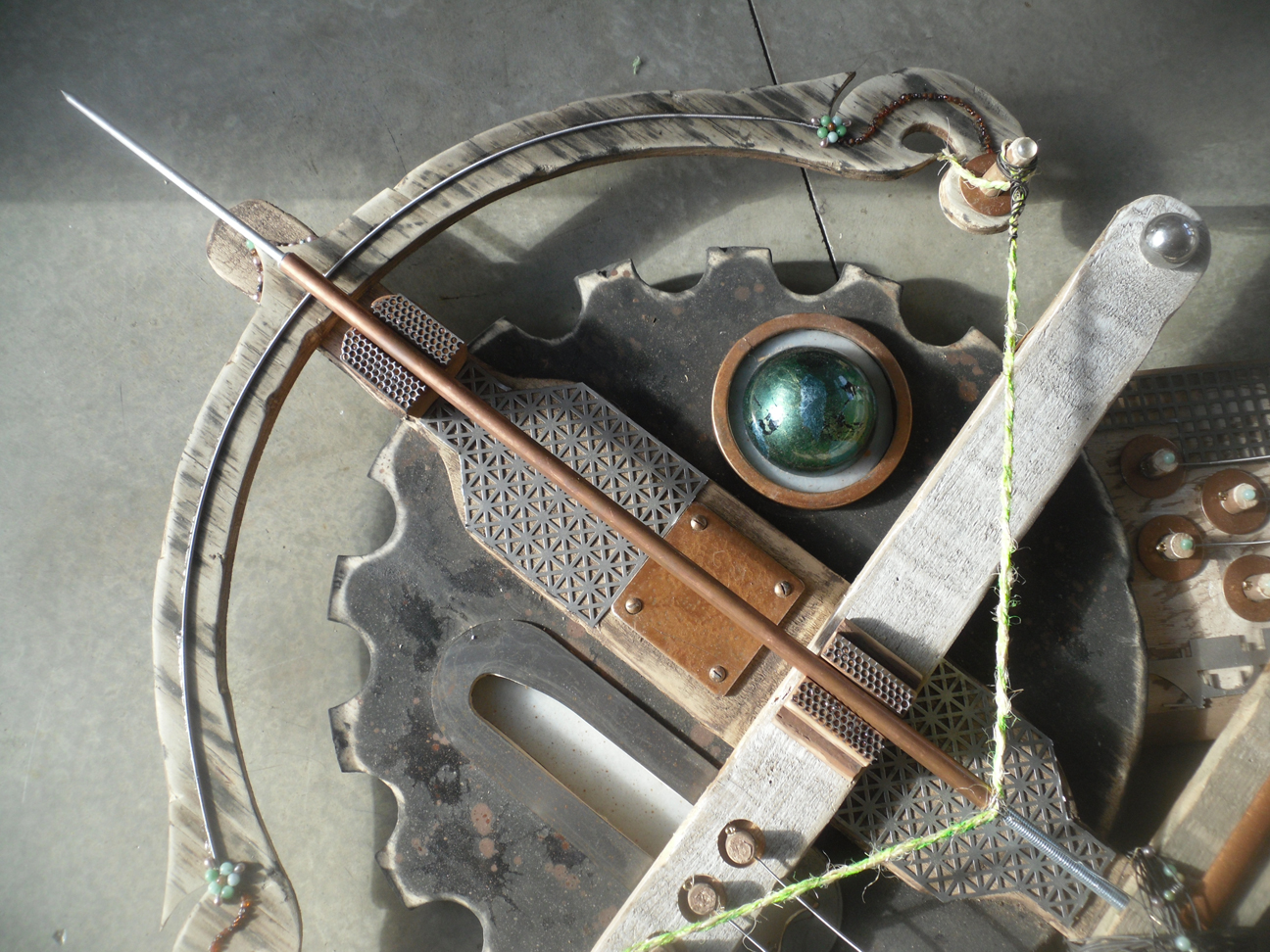 ​CrossTune (Close-up-4) SOLD
Ginger Baker
Acrylic on Canvas - 48" x 48"
Available for purchase
Eric Clapton
Acrylic on Canvas - 48" x 48"
Available for purchase
Jack Bruce
Acrylic on Canvas - 48" x 48"
Available for purchase